South London Makerspace
From HackerspaceWiki
South London Makerspace
Status
active
Country
United Kingdom

State or District

City
London

Date of founding

2012/10/25

Last Updated
2018-05-24
Website
http://southlondonmakerspace.org

Phone

020 8678 1181

YouTube

Facebook

Flickr

Twitter

GooglePlus

E-mail

Mailinglist

CalendarFeed

Snail mail

Arch 1129, 41 Norwood Road, Herne Hill, London
SE24 9AJ London
United Kingdom

Number of members

340

Membership fee

£20 p/m

Size of rooms

130 m²

Members
Location
51° 27' 6", -0° 6' 3"



South London Makerspace is a social community workshop, run by our members who pay a small monthly fee to keep the space open for working on personal projects.
We have a railway arch two minutes walk from Herne Hill station. The front of the arch is fitted out for clean work, the back is split into a messy and dusty workshop for woodworking and other activities.
To find us look for the Bath Factory Estate Gates on Norwood Road, opposite the park by Costcutter, we are on the left inside the gates.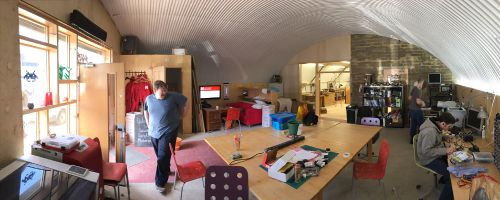 | | |
| --- | --- |
| This Hackerspace has a | Lathe |