23b Shop
From HackerspaceWiki
23b Shop
Status
active
Country
United States of America

State or District

City
Fullerton

Date of founding

2007/05/01

Last Updated
2013-04-05
Website
http://shop.23b.org/

E-mail

Snail mail

418 E. Commonwealth, Unit 1
92832 Fullerton
United States of America

Number of members

5

Membership fee

$200/mo

Size of rooms

1000sqft

Members
Location
33° 52' 13", -117° 55' 29"
Facilities Offered
Tools
Industrial-quality 3D printer (Stratasys Dimension 768)
12x30" Metal Lathe
Bridgeport Milling Machine
Large Drill Press
TIG/MIG/OFW welding area
Sandblasting Booth
Powder Coater
Grinders, Sanders
Band Saw
Electronics Bench with Oscilloscope, SMT soldering
Lots of tools for wood, leather, metal, etc.
Tons of hardware/parts
Space
---
The 23b Shop is a mixed industrial space. We have an office room with couches, bookshelves and coffee making equipment, an electronics and clean area, a shop floor with roll up door, and an upstairs chill-out lounge.

The 23b Shop is open for everyone to use when a key holder is present. Core (key holder) members chip in for the rent and expenses at US$200/mo. Donations are always welcome but not required.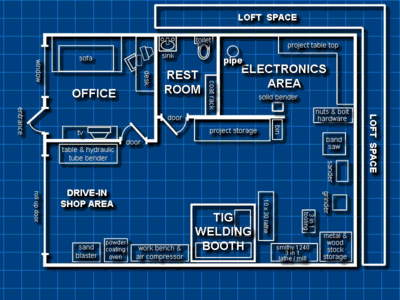 History
Founded in 2006, the 23B Shop came into being after we found ourselves always gravitating towards the garage to work on robots, cars, rockets, electronics, melee weapons, and other projects whenever we had a party. We put a plan together, then spent 3 months looking for a good site that was affordable.
The result was the 23B shop, located near the Fullerton Metrolink station near downtown. We are active with lots of ongoing projects and offer a wide range of tools and equipment for the mad scientist within our modest space. Also, pudding.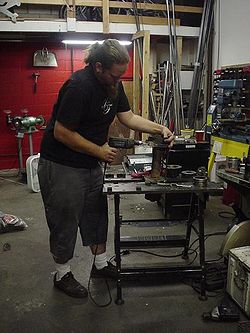 Events Schedule
Shop Events Calendar Moved
Effective 6/1/2010, the shop calendar and events page has been moved to the blog site at:
Amber's Birthday Party: Saturday April 17th
Open house, open party, all day saturday. If you want to work on a project come by during the day, then hang out till dawn partying with us. Expecting about 50 people. Bring your own booze, swimsuit (we'll have a pool!), change of clothes, first aid kit, cyanide emergency kit, etc. People should be there from noon on. Food & store within walking distance. Bring cake!
Open Shop Time - Most evenings after 7:00pm and weekends
We are having open shop time most evenings during the week. Current projects going on include a stereo FM radio transmitter, Jeep rebuild and EFI conversion, knife and sheath making, and microcontroller hacking.


4th Wednesday of every month - Desert Dog Troglodytes Cave Meeting
23b Shop is the meeting place for the Desert Dog Grotto, a club for cave explorers. Come out and see some fantastic slide shows and learn about caving. Meetings start at 7:00pm.


Recent Activities
2/8/2010 Electronics Lab Upgraded
Thanks to the generosity of two of our Desert Dog members, we have now upgraded the electronics lab with a stereo microscope, a new lab power supply, and advanced SMD soldering capability.

10/2/2009 4pm on - Arduino User Group Meetup
Interested in building smarter projects using the Arduino or other microcontroller? We're hosting the first of several Arduino meetups. Come on over, starting around 4pm and bring your project. Tell a friend!

9/12/2009 - 9/15/2009 Hacker Space Documentary
Bilal, Jordan, and Paul from the Two Hands Project will be in town to film their Hacker Spaces Documentary. You will probably see them around here, and they hope to get tours of as many spaces around L.A. as possible. Come help them out!

9/12/2009 CP Going Away Party
CP from Defcon 949 is moving to Maryland! Come see him off at this fantastic party, which starts at noon and goes until we feel like it.

6/17/2009 - 7/31/2009 The 23b Shop Blog
The 23b Shop Blog and photo site is now operational. Check it out here: shop.23b.org. Check here for projects, photo galleries, and general ranting.

8/13/2009 Defcon wrap-up and news
This year's Defcon was a success once again, despite almost continuous cock-blocking by our host hotel. The mobile disco performed beyond expectations, although the air cannon got damaged in transit. A couple of things to bring up:
1. We are still missing the water cooler. If anyone knows who brought it back, please contact Kallahar (kallahar @ kallahar.com). Update: We found the water cooler. Actually, we found out that we lost it. Oops! Replacement is on the way...
2. It's time to clean up the shop once again. I'm going to tentatively suggest a shop clean-up day and party for the last weekend of August.

6/17/2009 - 7/31/2009 The 23b Shop Blog
The 23b Shop Blog and photo site is now operational. Check it out here: shop.23b.org. Check here for projects, photo galleries, and general ranting.

6/17/2009 - 7/31/2009 Open Shop Days and Defcon Preparation
The Defcon hacker conference was a success. We had the 23b shop opened up almost every Saturday and Sunday for the month working on projects such as the Beer Chiller, Mobile Disco Club, and Super Ultra. Thanks to everyone who stopped by to help and say "Hi!"

6/17/2009 Creepy Estate Sale
We spent about 3 hours digging through the garage and outbuildings at a creepy old house in O.C. We were able to score a bunch of new specialty hand tools, a Helium tank, an O2 set, lots of misc. hardware and some camping stuff. Also got a large cabinet of taps and dies for the machine shop area.
---
5/23/2009 LayerOne
The
LayerOne
hacker get together was a success. We hosted the Sunday after party, and had at least 75 people there. The "group feeding" project involved 10lbs of spaghetti and the ubiquitous turkey fryer we use for home brewing. Look for a return of this at Defcon next month. Thanks to everyone who worked on the Phone Booth Bar, shop cleaning and other preparations. Thanks also to whoever left the 2 cases of Sam Adams and Pacifico.
5/9/2009
Shop Improvement Day: Thank you eris, tacitus, arclight and danno for helping clean and make improvements to the shop last weeend!
We added a vent hood to the welding area that vents outside.
We ran new network cables for the neighbors
We converted the upstairs to a chill out area. We need a big throw rug or remnant carpet still.
We got the bathroom and office cleaned very well!
Also added some new art and decorations.
Thanks again everyone who participated.
---
4/23/2009
Update:
HackerSpaceSD
will be visiting on Saturday, April 25th. We are planning a regular open day for projects, and welcome our new guests.
---
4/15/2009
Update: 23b Labs now has a reciprocal agreement with
BlackLodge
in Seattle, WA. BlackLodge members get free use of the lab while in town and discounts on workshop fees.
---
4/14/2009
LayerOne Hacker Conference is coming to town. Expect a 23b event on Sunday night.
---
4/1/2009
The party was good. Tacitus installed HAM radios in his Jeep, there was homebrew and Clown Bike Jousting.
---
3/1/2009
Got the new lathe hooked up and running true. Danozano may be doing a jewelry class soon. The robot arena is built and battle tested, and Arclight has dusted off the Aluminum/Brass foundry, so that is once again operational.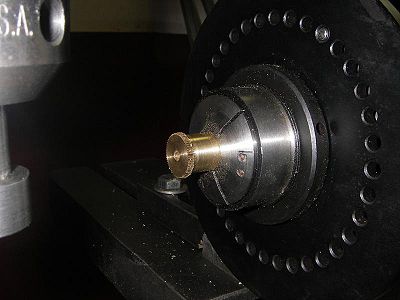 ---
1/2/2009
Happy New years! The New Years trip was great. Check out pictures on the Gallery.
---
11/1/2008
The shop improvements are going well. Flea's workshop was a hit. His workshop on leveraging Craigslist for serious relationships really opened a lot of eyes.