User:MobileMakerspace
From HackerspaceWiki
MobileMakerspace
Status
planned
Country
Canada

State or District

City
Victoria

Date of founding

2013/03/20

Last Updated
2015-08-27
Website
http://www.mobilemakerspace.com
Snail mail


V8R 6A7 Victoria
Canada

Number of members

5

Membership fee

Sliding scale - CAD - Business plan not yet finalized - Seeking funding shortly.

Size of rooms

30' Trailer

Members
Location
48° 26' 15", -123° 18' 7"



Take us places!

[

edit

]
Schools, Libraries, Disabled & Senior Care Homes, Neighboring Towns & Cities, Remote Communities, Events, and Even as a Rental in Your own Driveway!

We are working on a few configurations that would suite the needs of each situation. For example, a drill press and forge would not be conducive to an environment around small children or those who are unable to understand correct safety procedures. A modular design is best for a project such as this so parts can be easily swapped out without having to build multiple units. Since we are makers ourselves, most tools and modules are being built by ourselves with input from each community.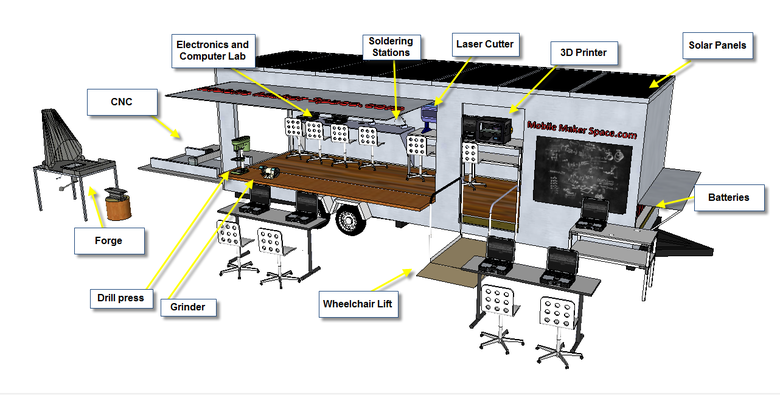 Each configuration will have a 3D printer, laser cutter, computer lab, and all class room equipment which we will build on for each unique setting.