Traumschule Riebau
From HackerspaceWiki
Traumschule Riebau
Status
active
Country
Germany

State or District

City
Salzwedel

Date of founding

2010/03/01

Last Updated
2017-09-15
Website
http://ts.blogsport.de

Wiki

Newsfeed

Mailinglist

Snail mail

Riebauer Dorfstraße 78a
29410 Salzwedel
Germany

Number of members

<10

Membership fee

0

Size of rooms

100 m²

Members

Open to Exchanges?

yes

Open to Residencies?

yes

Residencies Contact

Location
52° 51' 35", 11° 16' 24"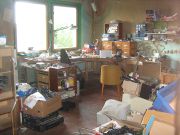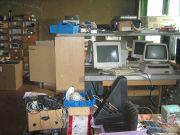 We got a four floor ex-military building at the former inner-german border filled with ancient computer hardware. Come in and hack your way through!
The initial status was changed from reformatting to active, as the whole house is undergoing renovations, but you can use our hackspace in the way it is without costs for accommodation or whatsoever. It is resorted from time to time depending of personal and schedules, but you probably won't find wonderland here.