The Next Hope
From HackerspaceWiki
This is the planning page for the Hackerspaces Village at The Next Hope
Participants
[
edit
]
| Hackerspace | Contact Info | Planned Projects | Notes |
| --- | --- | --- | --- |
| NYC Resistor | Matt Joyce | We'll show up in force and bring a bunch of our projects to show off | N/A |
| HacDC | Nick Farr | We're hosting the village again, in coordination with AlphaOne Labs | (None at this time, let's populate the list first!) |
| HackMiami | Alex Heid | Malware analysis, Secure Coding, Hardware Hacking Mods | |
| Hive76 | Hive76 General Contact | We have some projects in the works, especially a Badge-hacking table and setup. | We are still planning this, and will update our list of things as our plans come together. |
| Noisebridge | Mitch Altman | We're setting up the Hardware Hacking Area, and will have a bunch of projects to show. | (none at this time) |
| Alpha One Labs | General Contact | We're helping to setup / co-host the village and providing local staging for the event in coordination with HacDC. | We will also be hosting the Amazing Arduino Hacking Contest with prizes and think it will be cool if every hackerspace did a contest and had a prize. |
| CLUE | John Sarik | Personalize your pixels! We're demonstrating different display technology and screen printing electroluminescent displays. | EL Information |
| Metalab | astera | We're yet in the process of sorting out ideas on what we could actually import to the US. We'll keep you posted. | However, if someone things we should not miss out to have $THING present at HOPE, just let us know! |
| QR Code Generator OSC | Vince Veneziani | I will be finalizing code for my Python-based QR Code generator along with some other code for Twitter bots and other projects. Python and QR Code enthusiasts are encouraged to attend. | HOPE attendees are encouraged to contribute to the code and at the end of the event, the projects will be released into the open source world. Please contact me if you'd like to help or want to know more. Thank you. |
| PHP TestFest | Daniel Convissor | Hang out and write some unit tests for PHP. PHP is a widely used scripting language. Unit tests ensure the engine behaves as expected and continues to do so as it is developed. Let's put our hacker minds to work exploring the underlying C source code and documentation to find edge cases and uncovered segments that need checking and then we'll go about writing those tests. | We'll be doing this on Saturday from 2pm to 5pm. Bring a laptop that has PHP CLI installed or Internet access to a machine that does. I will explain the rest. If you want, feel free to show up prepared by learning how to write PHP unit tests before arriving. |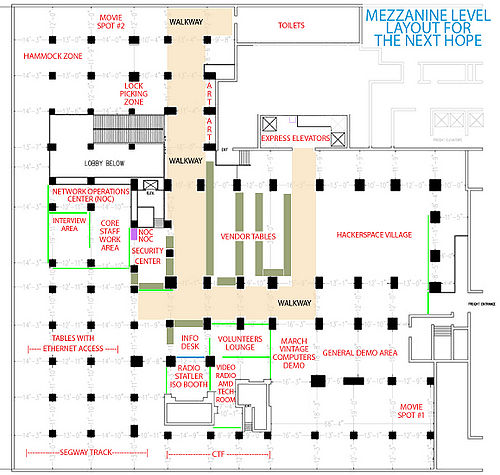 Planned Activities
[
edit
]
The Village will be centered around Mitch Altman's Hardware Hacking area. The current plan is to give each Hackerspace a demo/display table around the village and leave the central Hardware Hacking area as a "Metahackerspace" with no set plan. This should maximize the visibility of each Hackerspace coming to Hope while encouraging inter-Hackerspace activity and cooperation.
Services
[
edit
]
Each hackerspace participating will have their own area to stash their belongings along the area to the East and North of the village. Each hackerspace participant will have their own badge specifying they have access to this area.
At the present time, we plan to offer a "Hackersmart" where people can purchase electronic components for kits and other things. Specific plans are under discussion
Communications and Contact
[
edit
]
E-mail hackerspace@hope.net for more details. As well, if you are a hackerspace planning on attending, please give us a good POC to add to this list.