Talk:HACKMIAMI
From HackerspaceWiki
DISCUSS EVERYTHING IN THE NEW FORUM
[
edit
]
Sign up in the new forum and continue the discussion there.
---
---
---
---
---
---
HackMiami or HacMiami?
[
edit
]
I'm all for proper spelling of words, but other hackerspaces (i.e. HacDC and HacToronto) use Hac instead of Hack. I'd like to discuss that. --Jp 21:29, 3 August 2008 (CEST)
Those other spellings actually made it harder for me to find information about them, lol. I heard of HacDC but was googling around for HackDC and HackToronto and was getting frustrated when I couldn't find them. I think its important to have the K in the title. - Alex
I agree, I think we should differentiate ourselves with the k in the title. - Pete
Hi!
It was great to meet you all!
Discuss who would be interested (other than Alex, Peter, & Christian) in attending Fridays at the Mary Anne Wolf Theater 8PM at BBC for hackerspace. We can set it up for you in the lobby from 6pm-11pm.
This will be a great way to promote Hack Miami (or hackmia or whatever we all choose)
Also, add links to properties found!

Alex writes in regard to inital investment, fundraising, and properties:
I posted up a few links to potential properties around South Florida. The average going rate for a 1000sq ft warehouse is about $745 dollars. With 10 of us to start off we would need $74 dollars a month, each of us get one other person and now its at $37 a month, which is reasonable... if we can get a place that only requires the first months rent (no first and last, security deposit, etc) then we can set up shop with $74 each and get it running in its beta test mode.
If we need a place that requires first and last months rent, plus the electricity and insurance and all that nonsense, then we would probably need about $250-$300 each of us to do the initial move in, probably about $2,500-$3000 total for the first go around just to get established., an investment of that size would guarantee us at least 2 months in the facility. $250-300 is the price of a crappy laptop, so I'm sure we can muster it up one way or another.
This seems like a lot at first, but it will take this initial investment to get it off the ground. After the space is open, the money can be recuperated through new members, daily passes, fund raising activities (workshops, seminars, parties, selling stuff, etc.)
We can raise the funds for the initial investment by doing workshops and seminars and charging for them. We are all fairly skilled in our respective areas, and we can hammer out some great stuff.
Our time frame to get this off the ground should be approximately 3 months. In that time, we need to do fundraising. August has JUST started. We are starting today. $3000 by November.
$1000 a month is the goal.
There needs to be a treasurer to hold the funds, and someone who will collect donations of equipment and sponsorships. Those will be chosen by an election.
Latrokles writes in about Locations and finances:
I like the 97th and Bird place since it seems to be the most central. It may be a bit small, but seems like a nice place to start. The area close to Tamiami Airport is appealing since the places are pretty big and it's still kinda accessible through Turnpike.
Jeremy's right about some of the best deals not being online. We may have to do a bit of leg work. I will have some time on Sat morning to go around the area that Erwin mentioned to look for signs and collect some numbers where I can get some more data. If nothing else, it will serve to get a bigger pool of options.
Regardless of whether or not the space will require security deposit and x number of months of rent, I believe it's a good idea to keep a couple of months of rent in the "bank" in case something happens (kinda a security net of sorts). So raising ~$3000 before "opening" is a great idea.
If anyone can get some info from the SWEAT ppl by the next meeting (which I was thinking we could hold on Thursday nite) it would be great. That way we can settle on the first round of workshops to get started with this.
That's all I got for now. Gotta go. Will be back. Latrokles 05:30, 2 August 2008 (CEST)
Pete's Ideas about workshops for fund raising:
If people could look at my workshop ideas and help me think of one that is good enough to work out as a good fund raiser, which one would it be? I personally like the linksys firmware flash with the open source code, and possibly setting it up with SSH tunneling. What do you all think?
Latrokles' ideas about workshops for fund raising: There's a couple of things that come to mind at the moment. One would be putting together a kit as an introduction to soldering or a small robot (like the mousebot that appeared in Make Magazine). There's also LED throwies (though this may require an initial investment), hold the workshop on gallery night and then go about the design district throwing them on anything they'll stick to. Latrokles 17:02, 2 August 2008 (CEST)
Pete's response to Latrokles' idea: That is BRILLIANT and I think we should do that! I know of a way to make lots of magnets easy and the batteries would be cheap too. Lets do this!
Check this out and tell me what you think?
http://syndicate.delien.us/uploadz/fundraiser1.xls
http://syndicate.delien.us/uploadz/Throwies2K.xls

Remember we will be using this as a fund raiser for the space. We will do this on a Saturday afternoon then drive to Artwalk in Miami to throw everywhere, while we are doing that we will pass out fliers that will inform people of HackMiami. I can make all the members T-shirts and patches to wear that can say HackMiami. What do you all think?
Alex's reply to Pete & Latrokle:
The LED throwie idea as great, and we should get on it ASAP. The cost would come out to about 60 dollars a person, if were were to divide it up by 10, it would probably be a less if we make our own magnets. The ArtWalk is next week, so unless we get all the money collected and everything ordered within the next 48 hours, we will probably have to focus on the September artwalk for the LED Throwie stuff.
In regards to the workshops, those are great ideas. I also want to look into Capture the Flag type contests, where a wifi network is set up and then everyone competes to see who can crack it and get deepest into the network with the highest amount of privileges the fastest. An entry fee could be charged and put towards the space, and small prizes and stuff could be awarded.
Property Search
[
edit
]
Numbers 2, 3, and 4 seem to be all from the same realtor/owners. It seams like these places only have one parking spot per warehouse. Correct my if I'm wrong. --Jp 21:26, 3 August 2008 (CEST)
Hmmm... yeah the 'assigned parking' thing does seem like that. I will call them and find out what the specifics are on parking, because 1 spot per warehouse will definitely not work. If anyone finds anything else, online or in real life, please post! - Alex

We will need a kitchen
We should really consider finding a place with a kitchen. Maybe a house? --Jp
I'd think the place in 97th would have one. If not, it's possible to fashion out a kitchen in one of the warehouse spaces (inside the office area, if there's any)... the only question would be if the lease permits some minor cosmetic work... just a thought --131.94.179.194 23:09, 5 August 2008 (CEST)
Throwies Idea
[
edit
]
Is there any way we could have a broken HD collection day? Those have at LEAST 2 magnets in them and they are REALLY Strong. It will save some money on the magnets and get awareness out there. Can we approach the CS department as a possible sponsor for HackMiami and for some temporary space until we get started? We need some sort of press release to basically announce our presence and intentions. - Pete
I see someone getting their hands all cut up trying to remove these magnets from the hard drives. --Jp 15:27, 4 August 2008 (CEST)
LOL!!!!!! I do it all the time but yes you are right, ok nix that idea. Put I am probably going to use it for my thowies. - Pete
WHEN IS THE NEXT MEETING?! :)
A Good Goal
[
edit
]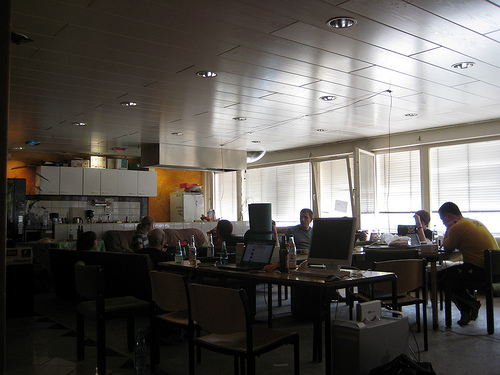 http://hackerspaces.org/wiki/CCC_Mainz
August 7th Meeting
[
edit
]
8 pm seems kind of late seeing as some people make work on friday. I don't work on friday so i have nothing to worry about. --Jp 15:08, 5 August 2008 (CEST)
I think Thursday (august 7th) at 7PM may work alright. A 1hr or so meeting and then everybody goes on their way. --Latrokles 16:57, 5 August 2008 (CEST)
Alex replies: I really like the Friday meetings because it's my day off. I can do Thursday evening if necessary though.
I'd have liked to come to the next meeting, but I'll be in Vegas for Defcon on Thrusday. -BonzoESC
Alex replies: I won't be able to make tonights meeting either, working at night sucks. Fridays are the best day!