Raul Hacker Club
From HackerspaceWiki
Raul Hacker Club
Status
active
Country
Brazil

State or District

City
Salvador

Date of founding

2013/03/29

Last Updated
2015-02-18
Website
http://raulhc.cc

Wiki

IRC

Facebook

E-mail

Mailinglist

Snail mail

Rua da Paciência, nº 257, Salvador, Bahia
41950-010 Salvador
Brazil

Number of members

30

Size of rooms

25m²

Members
Location
-13° 0' 37", -38° 29' 40"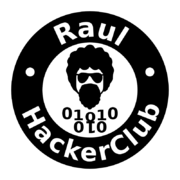 Raul Hacker Club
Raul Hacker Club
[
edit
]
Raul HC is one of "thousands" of hackerspace in Brazil, which aims to collaboratively maintain a space for people of any area of ​​knowledge may carry out projects or participate in projects ready, we are still working out details for the same,
but we are already working on projects with arduino and hackdays.
Location
[
edit
]
Rio Vermelho, Rua da Paciência, nº 257, Salvador - Bahia. We are on top of the Dubliners Pub, Room 303.
Check our website or mailing list before heading to an event.
We are currently running these (almost) regular events: