PostTenebrasLab
From HackerspaceWiki
PostTenebrasLab
Status
active
Country
Switzerland

State or District

City
Geneva

Date of founding

2009/11/27

Last Updated
2016-01-30
Website
https://www.posttenebraslab.ch

Wiki

IRC

Phone

+41 22 566 01 87

YouTube

Facebook

Twitter

E-mail

Mailinglist

CalendarFeed

Snail mail

Avenue de la Praille 36
1227 Carouge - Switzerland Geneva
Switzerland

Number of members

35

Membership fee

passive members: 20 CHF/month; active members: 100 CHF/month

Size of rooms

100 m²

Members
Location
46° 11' 15", 6° 8' 0"



Post Tenebras Lab is a hackerspace in Geneva, Switzerland.
Join us every tuesday at our weekly meeting, open to everyone.
Our space
[
edit
]
Our 100 m² underground space which we are renting since april 2012 is divided into multiple rooms:
Main room: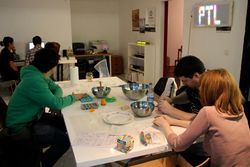 Conference room with space for 20 people: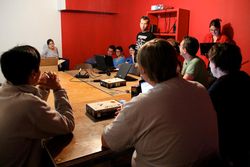 The workshop area with an electronics corner, kitchen and discussion area: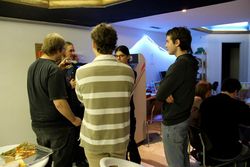 A panorama of our main space (december 2012)
http://www.dermandar.com/p/cGDWem/ptl
We have a calender with all upcomming events on our website. We also announce special event on our mailing list.
Weekly meeting
[
edit
]
Feel free to come by every Tuesday night 19h00 for our weekly meeting! We usually try to cook something and you can always buy something to drink (softdrink / beer).
Since our space opened we are been open every Tuesday with only rare exception. You will find our address and instructions how to enter the building here:
Weekly meeting (practical info)
Coder Night
[
edit
]
The idea is to have 1 or 2 talk about a programming topic. Then there is plenty of time to eat, discuss and maybe even do some programming !
Those event where originally planned to happen every month but are now fairly intermittent. If you are interesting in giving a talk or know someone, let us know.
Some past topics: 20 minute Unity 3D scripting primer, Power of parallel programming with OpenMP, How to rock the house with C++...
More information: https://www.posttenebraslab.ch/wiki/events/coder_night/start (french). (if you don't understand French we recommend you inquire about the language the talk will be given in)
| | |
| --- | --- |
| This Hackerspace has a | CNC |
| | |
| --- | --- |
| This Hackerspace has a | Lathe |