PRG
From HackerspaceWiki
PRG
Status
active
Country
Denmark

State or District

City
Lyngby

Date of founding

1950/01/01

Last Updated
2012-03-22
Website
http://www.prg.dtu.dk/

Phone

77424429( not working right now)

E-mail

Snail mail

S-huset,Anker Engelundsvej 1, bygning 101.
2800 Kgs Lyngby
Denmark

Number of members

Around 117

Membership fee

Currently 250,- DKK/Year .

Members
Location
55° 47' 10", 12° 31' 33"



PRG is an Electronics club located in the basement of the student-house at the Technical University of Denmark.
Membership is not limited to students and employees at the university, but is open to all (however certain ratio of student to no-students is preferable).
Our topics cover everything that has to do with electronics, computers and communication. We have about 80 members including newbies and pros off duty. We meet at 19:00 every Tuesday (klubaften). Anyone interested is encouraged to drop by. On tuesdays we meet to exchange experiences, talk, work on our projects and do our nerdy stuff!
Polyteknisk RadioGruppe older than Hacking
PRG goes back to the 1950's and maybe before. We have been housed in different places over the years and before moving to our current space at the end of the 60's we were housed at the old radio tower om Sølvgade together with the university. Before that, in the late 50's, we were located in room 1007 at Otto Mønsted Kollegiet, from where we got our station call sign OZ7OMR (OMR was chosen as the abbreviations for Otto Mønsteds Radio). The rooms that PRG is housed in now was built for us with cable shafts going from our antennas on the roof down to our basement radio room from where it is possible to talk to people all over the wold.
Now most of our members are not 'radioactive', but do other project like a self-opening cat-door for the member who didn't want to get up in the middle of the night to let out the cat or microcontroller based keyboard remapper for PS/2 keyboards for a member who didn't like qwerty. Our sister club 'ATM Wood and Metal' (ATM Træ og Metal) is located 30 meters from the PRG lab. PRG membership is only 250 kr per year and gives 24 hour access with a magnetic card. ATM membership is only 250 kr per year. It too gives 24 hour access with a magnetic card. Double membership is only 350 kr per year. Equipment:
Multimeters
Oscilloscopes
Variable DC Power Supplies
Logic Analyzer
Frequency generators (sine, square ...)
Frequency counter
RLC Meter
PROM/Flash programmer
UV EPROM eraser
Microprocessor development kit (Atmel AVR and Microchip PIC)
Temperature-controlled solder stations
PCs with print layout software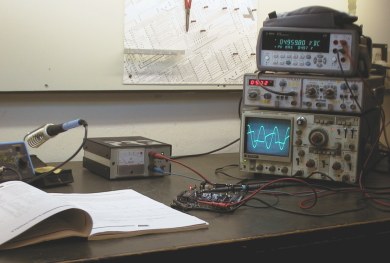 Radio equipment: (The radio equipment is being reconfigured and is therefore not usable at this time)
Band: 0-30 MHz, VHF, UHF
100 Watt antenna amplifier
Rotateable antenna on the roof of bldg. 101
S-meter
Målesender

PRG is located in the basement of S-huset, bldg. 101. On this map
Go through entrance door E from the North and turn left into S-huset (signs will clearly mark S-huset). Walk down the spiral staircase. Follow the corridor opposite to the ladies' room around the Cellar Bar. The corridor will turn left and there is only one door to pass before you stand at the entrance.
If you get lost, please call us at the phone number below.
Phone +45 77424429 (Try tuesday 19:00-23:00) ( the Phone is out of order)