Infinity
From HackerspaceWiki
Infinity
Status
active
Country
India

State or District

City
Dharamsala

Date of founding

2012/07/16

Last Updated
2016-04-28
Website

Phone

09818489610

Facebook

E-mail

Snail mail

Ghoomakad, Near Rakkar Ground, Rakkar, Sidhbari
Himachal Pradesh-176057 Dharamsala
India

Number of members

Variable

"Variable" is not a number.

Membership fee

The annual cost of running the base is between Rs. 800000, to Rs. 900000. This includes rent, salaries of staff, internet, electricity, food, maintenance etc.

Size of rooms

42m²

Members

Open to Residencies?

yes

Location
32° 11' 55", 76° 22' 1"
Infinity (as we mean) is an environment for (un)learning, (self)exploration and creative community living.
Ghoomakad (meaning a traveler), is the first host for the Infinity environment. It is located in an agricultural hamlet in Dharamshala, India.
This hackbase presents a unique opportunity to discover one's self in the Himalaya, experiment with technology, nature and society in a naturally creative environment, and work towards an enjoyable, knowledgeable, healthy and exploratory way of life.
The space offers an enriched ecosystem that facilitates the explorer's path to self-discovery, in opening up and sharing with other explorers.
People from all over with various backgrounds come here to meet, find, share and collaborate in living with each other.
This network of alive people in an alive environment, with an open source sharing platform gives birth to new ideas and concepts. Then with collaborating in works together, the community creates and carries out events, workshops and projects.
Everyone who comes here takes something from here. It is all due to the involvement of everyone towards each other. Hence Infinity space invites such explorers who share the intention of enriching community living.
What we offer
[
edit
]
Located in a village beautifully surrounded by the mountains, rivers and forests - Infinity space at Ghoomakad offers an organic - environmental reform that makes the senses more aware and receptive facilitating Self Discovery, growth and creation.
The space can accommodate the explorers who are willing to be engaged, learn, collaborate, have ideas to share and experiment with, in living together. There is wide open space, a kitchen hall and a studio which can be used for artistic creativity, software development, workshops, events, musical jams etc
Impulsing projects - We have some interesting projects and ideas, across technology and otherwise, that we would like you to be a part of and enrich. So, predominantly we seek the participation of such explorers who are willing to come for a stay long enough to really engage and collaborate with the space/village.
We have a good local support. It is a great possibility for cultural exchange, learning traditional arts and working together where one learns from one-another.
Upcoming events
[
edit
]
April 4th - May 20th 2016 - CodeCamp, in collaboration with Jaaga study. We will host a camp for around 40 students or developers to learn coding, teach coding and make their own open source applications, in a peer to peer environment.
May 21st -June 5th 2016 - Third Hillhacks Workshops, talks and sessions around technology, art and society. Connecting with likeminded, exploring nature
Location and Background
[
edit
]
Set amid the backdrop of the snow capped Dhauladhar range of the Himalayas, the hackspace/studio is located amidst natural surroundings of fresh river streams, thick woods and lush terrace fields at Rakkar, Sidhbari, 8kms from the town of Dharamshala in the North Indian state of Himachal Pradesh. The studio functions as a fusion space for nerds and artists from across the world and the locals from the Rakkar and Dharamsala community, alike.
Rakkar is an agricultural village inhabited by the indigenous shepherd community called the Gaddi and has a population of around 1500 people.
The Space
[
edit
]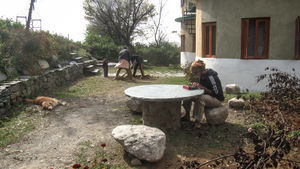 The triangle shaped main compound is surrounded by freshly melted, flowing water on all sides (locally called Kuhl, these are irrigation channels). There is also a fresh water pond with some fish and the shape of a bow, with the water fountain coming out as the arrow. The Kuhls are good for dipping your feet. The pond is good for storing water and also for dipping your self! There is also another water fountain at Southern corner.
The main hackerspace/studio (Lotus lounge) is a hall built with mud and stone and is shaped as two Infinity symbols overlapping at orthogonal angle. It has a wooden stage on one side, a fireplace, bathroom and storage room. Up to 15 people can easily work from the studio.
The living cottage (called Pyramid because of the shape of its roof) has two floors and 8 rooms.
A third building (Boat House, traiangular) has one hall (used for dining/screenings/events) and three rooms for stay.
The garden in the compound works as a good extension to the work space and gives an ever changing, ethereal view of the mighty Dhauladhar.
Adjacent to the main compound, is a camping space with four dry compost toilets, two baths and enough ground to accommodate forty tents.
Projects
[
edit
]
LifeMaker LifeMaker is a people's movement for Collaborative awakening. It is a desire and a call to action for every One to help every Human (including Oneself) glow in the light of wisdom, contentment, health and prosperity. Connecting us using technology, it is a network for a. evaluation of our living based on feedback from our surrounding b. topic/interest based discovery of likeminded people, knowledge and works of collaboration and c. a symbiotic and self-sustained environment for personal and collective growth. Stack: react native android, nodejs, socket, elasticsearch
For the Dalai Lama Trust: Archival, cataloging and search on Dalai Lama's entire life. His teachings, books, correspondence, personal assets, audio, video, photos - everything. Will be exposed to the world as an API and a User interface. This is a generic information management system. Stack: elasticsearch, nodejs, reactJS
Epicbeat Discover most popular content, community and insights for any keywords, author or domain Stack: node, nsq, elasticsearch, python/pandas, wordpress, angularjs
Epicsearch An extension of Elasticsearch npm in Nodejs. Helps improve performance in heavy load scenario by aggregating queries from different places in code and do CRUD with application level joins over Nosql elasticsearch.
Metataste A movie discovery engine. Currently the development is paused. Stack: Java, Lucene, Mongodb, Nodejs
Hillhacks Third version to be held around May 23rd to June 7th.
CodeCamp Coding, camping and yoga in Himalayas
Music evenings: Stack: Indian classical, folk, bhajan, miscellaneous
Accomodation
[
edit
]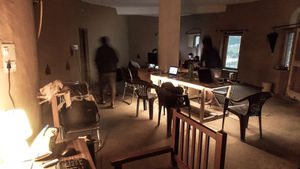 There is always space for visitors. Sleeping bags can can be provided to volunteers at the hackerspace itself based on availability. Private rooms with food can also be arranged at hackbase compound, or in the home stays in the village within walking distance and at reasonable rates. Volunteers are invited to help in the following domains:
Imparting guidance and useful knowledge
Improving or adding to the hackbase in any way
Support to existing projects of the hackbase community
Food and transport
[
edit
]
Fresh home cooked meals are prepared at the space. Kitchen facilities are also available to prepare food yourself. The village has basic convenience stores that can be used for most supplies. Well stocked shops and cafes are reachable within a 10-20 minute walk from Ghoomakad.
Regular buses to Dharamshala (9km) are available from Sidhbari bazaar (15min walk). Raju bus crosses Ghoomakad three times a day as well. More frequent bus service available on the other side of river Manoni (5 minute walk)
Skills, Activities and Interests
[
edit
]
Wholesome living
Treks to the mountains
Search and discovery engines
Information management systems
Web and Mobile development
Software engineering in general
Yoga
Local empowerment through skill training and knowledge sharing (kids, college students, anyone willing to learn)
Village homestays
Music, Music, Music
Waste recycling experiments (with Nishtha)
Last but not least: Hacking of the Self and Society
Facilities and Tools
[
edit
]
Camping site
Broadband WiFI from three providers. Check the connectivity status here
Bed, breakfast, lunch and dinner. 24x7 open kitchen
Guitars, flutes, harmonica, xylophone, jambe and other musical instruments
Drills, saws, measuring tape, Raspberry Pi and other electronic/electrical equipment
Laundry machine
Organic waste pit
Microscope
Local Organizations and Communities
[
edit
]
There is a myriad of locally available resources and skillsets that can be utilized in and around the hackerspace. Rakkar is also home to 5 organizations:
Mindgrep, techies who arrived here first, setup this space and running the space too.
Hillhacks, incubated at this very hackbase, this is a community of hackers without border out there to make a difference through knowledge sharing and innovative collaboration in fields of technology, art and life
Jagori Grameen woman empowerment, organic farming and food distribution
Nishta, an NGO which focuses on healthcare, primary education and waste management
MyEarthStore: Organic boutique shop at Sidhbari and a farm.
Gyuto monastery, Norbulingka, and other Buddhist monasteries nearby
There are quite a few more in the vicinity
Other Village resources
[
edit
]
Government run secondary school
Nishta's computer center
Nishtha's medinal clinic
Grocery shops
Tailor
Clothes and curtains boutique
Fresh dairy product - milk and cow dung
Carpentry workshop
Local farm produce
Mineral water spring
Village sports ground
Places nearby
[
edit
]
River Manoni - Freshly melted snow from Dhauladhar range, running across the length of the village. Great for baths.
Aghanjar Mahadev Shiv temple by the Manoni river. 20 minutes walk up the road.
Norbulignka Institute for Tibetan arts and culture[1], Fatehpur (1km)
Gyuto Karmapa Monastery[2], Sidhbari (1km)
Chinmaya Organization for Rural Development (CORD) [3], Tapovan (3km)
McLeod Ganj, Bhagsu and Dharamkot[4] (12km)
Sambhaavnaa Institute of Public Policy & Politics and children's learning center [5], Palampur (35km)
Andretta Pottery and Crafts Society[6], Palampur (45km)
Billing paragliding area, Bir (55km)
And more..
Past Events
[
edit
]
Jul 13, 2013 - Cryptoparty Dharamshala[7]
Nov 8, 2013 - Digital Dhasa meetup number 3
Dec 27-30, 2013 - 30C3 Congress Everywhere linked to Chaos Computer Club's 30th annual Congress in Hamburg
Dec 27-30, 2013 - Hacked Chess tournament for the local Dharamsala community and visiting friends and hackers
Dec 27-29, 2013 - Wikipedia Hackathon with school children and Dharamsala geek community
Oct 10-26, 2014 - Hillhacks temporary hackerspaces and conference hall for workshops, talks and sessions around technology, art, society, earth and life
Oct 31 - Nov 3, 2014 - Dharamsala International Film Festival To celebrate great independent cinema in the mountains
References
[
edit
]