Hardware Hack Lab
From HackerspaceWiki
Hardware Hack Lab is a weekly gathering of artists and techies in New York.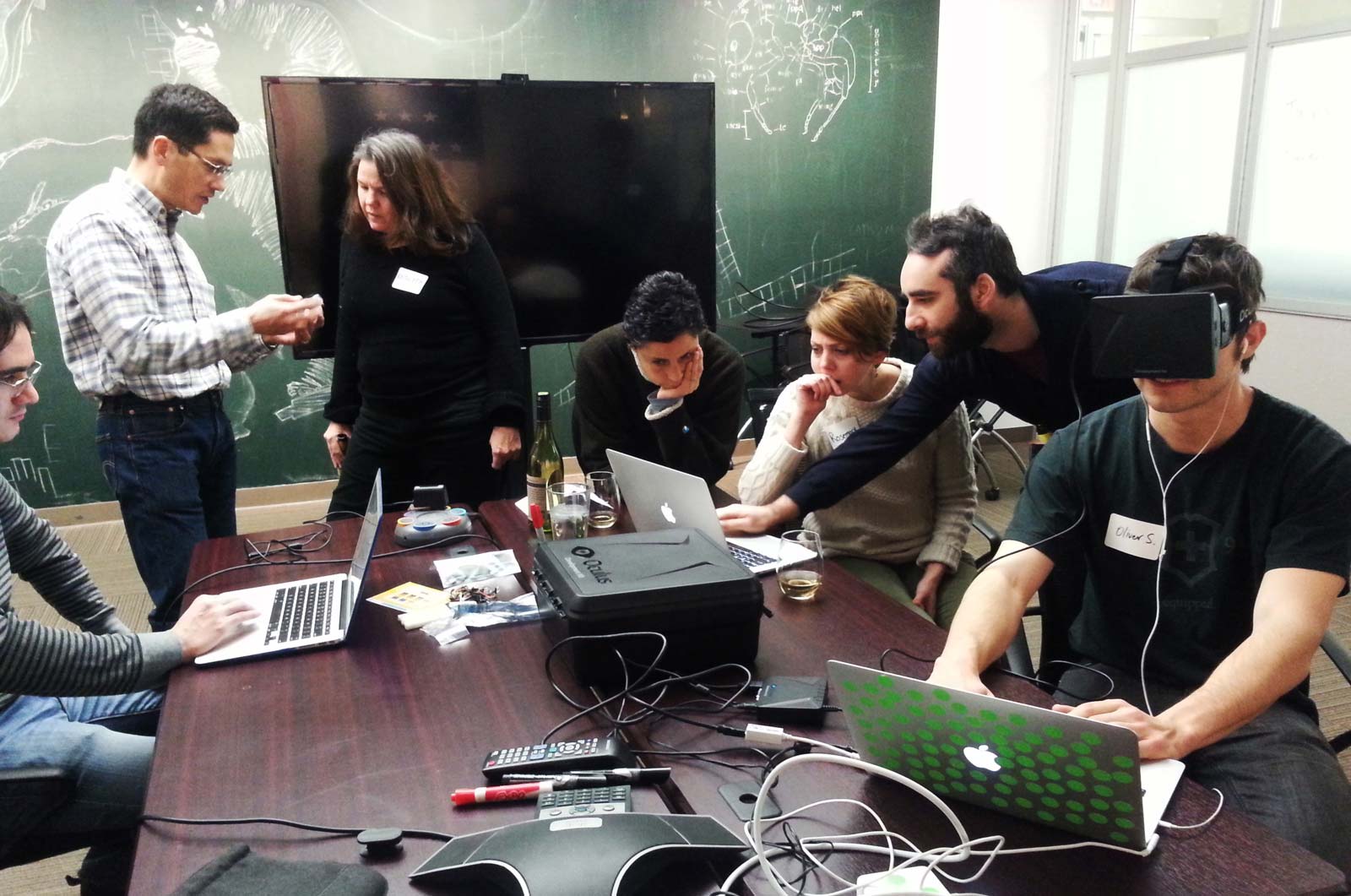 The lab is based on long-form learning, and open-ended inquiry (rather than quick tech demos), and on community and collaboration (rather than competition). Members here include a mixture of novices, students and subject-area experts.
Membership is free. The space, equipment and community are open for members every Wednesday evening from 6:30. You can join here
The lab is sponsored by ThoughtWorks and the Volumetric Society.
| | |
| --- | --- |
| This Hackerspace has a | Kinect"Kinect" is not in the list (3D Printer, 3D Scanner, Arcade, Brewery, CNC, Kitchen, Lasercutter, Shower, Slush Machine, RIPE Atlas, ...) of allowed values for the "Equipment" property., KinectV2"KinectV2" is not in the list (3D Printer, 3D Scanner, Arcade, Brewery, CNC, Kitchen, Lasercutter, Shower, Slush Machine, RIPE Atlas, ...) of allowed values for the "Equipment" property., Muse (EEG)"Muse (EEG)" is not in the list (3D Printer, 3D Scanner, Arcade, Brewery, CNC, Kitchen, Lasercutter, Shower, Slush Machine, RIPE Atlas, ...) of allowed values for the "Equipment" property., Oculus Rift"Oculus Rift" is not in the list (3D Printer, 3D Scanner, Arcade, Brewery, CNC, Kitchen, Lasercutter, Shower, Slush Machine, RIPE Atlas, ...) of allowed values for the "Equipment" property., Oculus Rift DK2"Oculus Rift DK2" is not in the list (3D Printer, 3D Scanner, Arcade, Brewery, CNC, Kitchen, Lasercutter, Shower, Slush Machine, RIPE Atlas, ...) of allowed values for the "Equipment" property., Leap Motion"Leap Motion" is not in the list (3D Printer, 3D Scanner, Arcade, Brewery, CNC, Kitchen, Lasercutter, Shower, Slush Machine, RIPE Atlas, ...) of allowed values for the "Equipment" property., RGBD Toolkit"RGBD Toolkit" is not in the list (3D Printer, 3D Scanner, Arcade, Brewery, CNC, Kitchen, Lasercutter, Shower, Slush Machine, RIPE Atlas, ...) of allowed values for the "Equipment" property., Google Glass"Google Glass" is not in the list (3D Printer, 3D Scanner, Arcade, Brewery, CNC, Kitchen, Lasercutter, Shower, Slush Machine, RIPE Atlas, ...) of allowed values for the "Equipment" property., Soldering Station"Soldering Station" is not in the list (3D Printer, 3D Scanner, Arcade, Brewery, CNC, Kitchen, Lasercutter, Shower, Slush Machine, RIPE Atlas, ...) of allowed values for the "Equipment" property., Octolively"Octolively" is not in the list (3D Printer, 3D Scanner, Arcade, Brewery, CNC, Kitchen, Lasercutter, Shower, Slush Machine, RIPE Atlas, ...) of allowed values for the "Equipment" property. |