FIXME
From HackerspaceWiki
FIXME
Status
active
Country
Switzerland

State or District

City
Renens

Date of founding

2010/07/13

Last Updated
2018-02-15
Website
http://fixme.ch

Wiki

IRC

Phone

+41216220734

SpaceAPI

Facebook

Twitter

Mailinglist

https://lists.saitis.net/cgi-bin/mailman/listinfo/hackerspace-lausanne

CalendarFeed

Snail mail

Chemin du Closel 5
VD-1020 Renens
Switzerland

Number of members

94

Membership fee

Minimum membership fees per month:

4 CHF simple membership (no key)

16 CHF students

32 CHF adults

Size of rooms

120m²

Members
Rorist
Location
46° 31' 56", 6° 35' 29"



Fixme is a hackerspace in the Lausanne region, Switzerland. Our weekly meetings are on Wednesdays from 19h, electronics meetings are on Fridays from 19h, and we're also open any time a member is present (see opening status on our site!). Feel free to come for a visit!

The Fixme hackerspace in the Lausanne region welcomes you with open arms. We host weekly general and electronics meetings, as well as events on other days, such as meetups, workshops, debates, CTFs, and more. The hackerspace can be accessed by foot (15 minutes from Renens-VD), bus (Bus 17, Renens-Village; Bus 32/33, Chêne), or car. It is located in the IRL+ building, on the "2ème étage" (that's the 3rd floor in English), in the Univercité space.

At the space you'll find something for everyone: we have everything from a giant plasma cutter to soldering irons, as well as everything in between - 3D printers, a CNC machine, laser cutters, woodworking machinery, digital fabrication tools, a PCB fabrication workstation, solder rework equipment, as well as a huge selection of new and used components (looking for laser optics? or bitcoin miner parts? yup, we have that). People-wise we're very open and awesome. Amongst the 100+ members, ~80 of whom pay membership fees, we have students, hackers, ceos, marketers, technicians, apprentices, designers, bitcoin experts, startup founders, teachers,... we're incredibly open to everyone and we don't bite (but we may nibble a bit ;). We also have a ton of space available, with close to 1000m² usable by anyone. There is a 250m² workshop area, a 100m² conference area, a 150m² co-working area, a 250m² bio-hacklab, several meeting rooms, and more. There are currently plans to put in place a kitchen/café/bar, a war/project room, as well as a sleeping/showering area for visitors. Just below us we have a lovely artisanal brewery that supplies us beer from time to time, and just above us there is a ceramics workshop and a archeology research facility coming into place.
We obviously have a large selection of drinks (4 different beers; club mate), snacks, arduinos, raspberry pi's, usb chargers/cables, and more on sale!
Recent Events
[
edit
]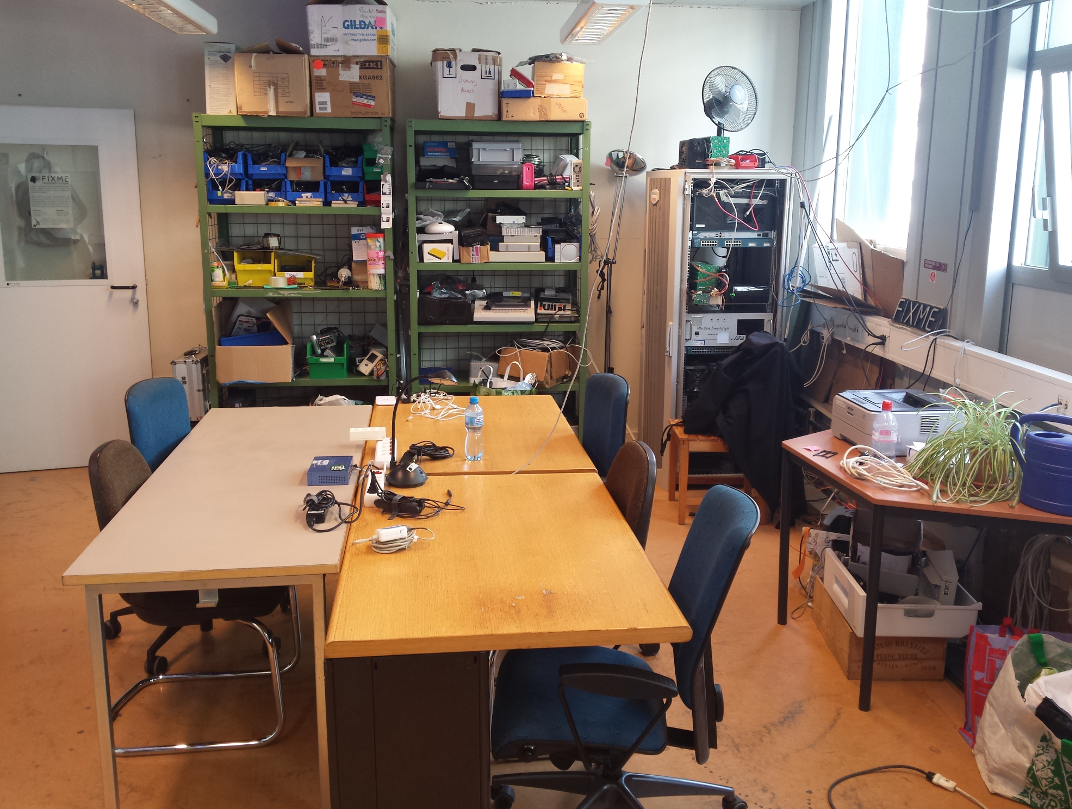 Timeline
[
edit
]
October 18th 2014 : Fixme moved into a new space in Univercité in Renens
April 14th 2011 : Inauguration of the space, about 30 people present
April 1st 2011 : We have the space and start moving in
September 30th 2010 : Creation of the association under the name "FIXME"
August 14th 2010 : 1st meeting, 14 people were present.