BitValley
From HackerspaceWiki
BitValley
Status
closed
Country
Spain
City
Malaga

Date of founding

2013/10/01

Last Updated
2017-01-24
Website
http://bitvalley.cc

IRC

YouTube

Twitter

E-mail

Mailinglist

Snail mail


 Malaga
Spain

Number of members

15

Membership fee

Attending is free. BitValley membership is 60 EUR a year.

Size of rooms

18 m²

Members
Pablog

Open to Exchanges?

no

Open to Residencies?

no

Location
36° 43' 22", -4° 25' 21"



NOTE: Due to inactivity of members this hackerspace can be considered as closed. Most of the members have moved to other cities. The information in this page has been kept for historical purposes.
BitValley is an organization that promotes hacker movement values. Right now our focus is set on the following subjects:
3D printers and other DIY projects
Free software
Free hardware
Transparency and Open Data
Crypto stuff
Libre networks (Guifi.net)
Self-hosted tools for the most online used services
Physical space
[
edit
]
Our current physical space (since October 2013) is located at:

La Casa Invisible (Medialab)
Calle Nosquera 9-11
29008, Málaga
The space (Medialab) is shared with other collectives and is inside La Casa Invisible, which is a former squat building. Now there's an agreement with the city council and there's no danger of eviction. It's really a beautiful and alternative place that you have to visit if you come to Málaga.
Please, send us an e-mail if you are planning to visit or want to meet. We don't have a fixed calendar and the space needs to be opened.
Some members participated in the former MalaHack hackerspace (R.I.P.).
Pictures
[
edit
]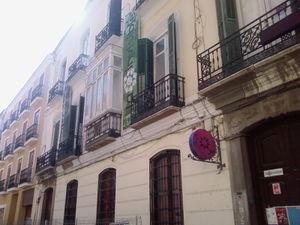 This is the facade of La Casa Invisible. The door on the bottom right border is the main entrance.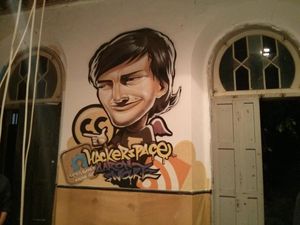 This is a graffiti we did in memory of Aaron Swartz during the Aaron Swartz Hackaton held on 9th November 2013.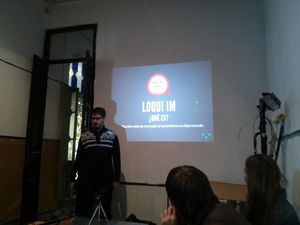 One of our members is the main developer of Loqui.im Firefox OS app. He did a presentation of a new release.
External links
[
edit
]