XAP-Hacks
From HackerspaceWiki
XAP-Hacks
Status
active
Country
Brazil

State or District

City
Chapecó

Date of founding

2013/08/09

Last Updated
2014-05-31
Website
http://xap-hacks.org/

Wiki

IRC

Facebook

E-mail

Mailinglist

Snail mail

Av. Marechal Borman 1081 E, Chapecó, SC, Brazil
89.801-050 Chapecó
Brazil

Number of members

20

Size of rooms

35m²

Members

Open to Exchanges?

yes

Open to Residencies?

no

Location
-27° 6' 14", -52° 37' 32"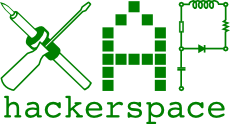 Um Hackerspace é um grupo de fuçadores interessados em tecnologia, que se reúne periodicamente para tocar projetos, estudar, aprender e ensinar tecnologia de forma prática e divertida. O XAP Hackerspace atua na cidade de Chapecó/SC e região. Se você quiser participar, entre no nosso grupo no Google Groups e fique por dentro das atividades que estamos desenvolvendo.