Realraum
From HackerspaceWiki
Realraum
Status
active
Country
Austria

State or District

City
Graz

Date of founding

2007/03/01

Last Updated
2015-05-25
Website
http://realraum.at/

Wiki

IRC

Jabber

realraum@realraum.at

Phone

+43 780 700 888 524

Twitter

GooglePlus

E-mail

Mailinglist

CalendarFeed

Snail mail

Brockmanngasse 15
8010 Graz
Austria

Number of members

50

Membership fee

EUR 25 per month, EUR 15 for junior members

Size of rooms

81 m²

Members
Equinox, Verr, Xro
Location
47° 3' 56", 15° 27' 2"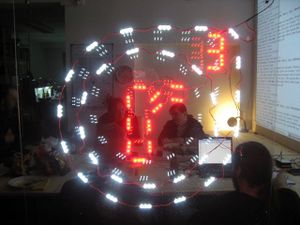 The Realraum is our own small hacker-space in Austria's student city Graz. It aims to provide infrastructure for do-it-yourself enthusiasts and a meeting place for tech-lovers.
Apart from being in the space anyway we strive to have one general assembly social meeting per month :), workshops and gaming nights. Additionally, at least once a month one members holds a lecture on a topic of his choosing.
We invite everyone (you) to stop by and visit.