Lowell Makes
From HackerspaceWiki
Lowell Makes
Status
active
Country
United States of America

State or District

City
Lowell

Date of founding

2013/11/01

Last Updated
2014-12-12
Website
http://lowellmakes.com

IRC

Phone

978-905-8123

YouTube

EventBrite

Facebook

Twitter

E-mail

Mailinglist

CalendarFeed

Snail mail

47 Lee St
01852 Lowell
United States of America

Number of members

6

Membership fee

Maker $49/mo Access only when staffed
Professional $74/mo 24×7 access, locker included
Entrepreneur or Small Biz $110/mo 24×7 access, 2 named members, 2 lockers or 1 bin included
1-Day Pass $15/day Access only when staffed – one calendar day only
3-Day Pass $25/3 days Access only when staffed – three consecutive calendar days

Size of rooms

6000ft²

Members
Location
42° 38' 46", -71° 18' 33"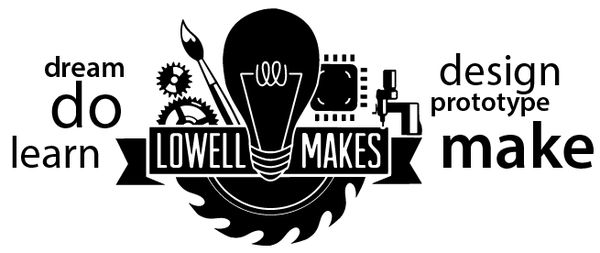 Lowell Makes, a 501(c)(3) non-profit organization, opened on Nov 1st 2014, and is "makerspace." Makerspaces are all unique, but share many things in common:
* Shared equipment, tools and resources most people cannot afford on their own or fit in their homes.

* A vibrant community that loves to make, fix, invent and modify,or "hack" things
- all kinds of things – and loves to share knowledge and learn.

* An ecosystem where anyone can be a student, teacher or both.

Like many makerspaces, we plan to have a mix of high-tech things like 3D printers and CNC mills, along with more traditional workshop spaces including a wood shop and metal shop. Ultimately, the kinds of things we have will be determined by our members.
Lowell Makes is the result of the ideas of three people who live in Lowell and love Lowell, each with very different backgrounds, who may not have ever met if they hadn't found themselves enrolled in the same class at the Sandbox Leadership Institute.
| | |
| --- | --- |
| This Hackerspace has a | Lathe |