Hackerspace Kraków
From HackerspaceWiki
About us
[
edit
]
We are non-profit hackerspace in central part of Kraków. Our HQ is located in a basement 2 minutes from main railway station and 5 minutes from main square, and just near propably the most convenient place in Kraków to get by bus or tram, also during the night. Like the many other hackerspaces if you are our member you have 24/7 access to the space where you can do your stuff, but there is almost always someone in the space - you can check it using spaceapi or our whois system - krakow.hackerspace.pl or http://whois.hskrk.pl/whois.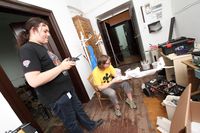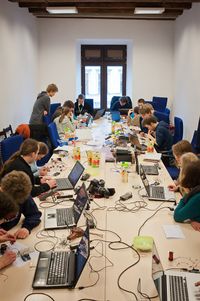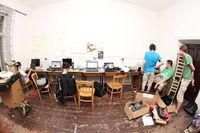 Once a week a group of most involved and interested people discuss current issues and actions taken in Hackerspace. They will be ready to answer any kind of question and dispel any doubt.
Nighthacks
[
edit
]
We meet also every friday at Nighthacks - repetitive events in which we spend friday nights hacking everything we can, making crazy projects or just talking about quantum mechanics after night without sleep.
Workshops
[
edit
]
We also run some workshops from time to time, usually about Arduino, but there were some about knitting or stuff like home automation or programming microcontrolers. You can get some info from our mailing group or from Facebook.