Dlabs
From HackerspaceWiki
Dlabs
Status
active
Country
Spain

State or District

City
Zaragoza

Date of founding

2012/05/05

Last Updated
2013-05-14
Website
http://www.dlabs.co

Wiki

Facebook

Twitter

E-mail

Mailinglist

Snail mail

Camino la mosquetera 41
50010 Zaragoza
Spain

Number of members

11

Membership fee

30 EUR monthly, 20€ monthly reduced

Size of rooms

130m²

Members
Location
41° 39' 4", -0° 53' 55"



Hackerspace con tendencias tecnologicas y artisticas. Espacio de charlas, zona de trabajo, taller, zona de descanso, charlas, reuniones, y todo lo que necesites.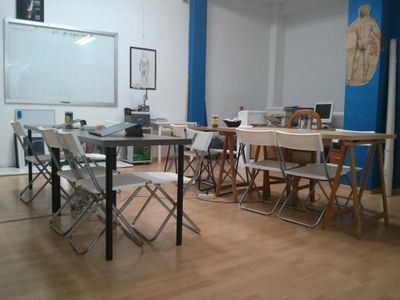 Dlabs es un espacio de trabajo, un espacio de colaboracion, un espacio de aprendizaje. Pero sobre todo, dlabs es un espacio de experimentacion artistica y tecnológica.
En dlabs ponemos a tu disposicion los recursos necesarios para que desarrolles tus capacidades artisticas o tus conocimientos tecnológicos, para que saques tus proyectos adelante, o simplemente aprendas y disfrutes del ambiente.
El espacio en sí esta dispuesto en zonas, contando con una amplia bancada de trabajo tipo taller, dos zonas de relax (con sofás), mesas de trabajo, mesa de electrónica, zona de biblioteca, equipo de consulta e impresion (contamos con una fotocopiadora y una impresora laser), taquillas individuales, piano y mesa de dibujo.
La mejor forma de conocernos y saber lo que hacemos es venir a vernos, comprueba nuestro calendario de actividades proximas y nuestra localizacion en http://www.dlabs.co/
Ahora mismo damos cabida a las siguientes organizaciones:
- Guifi.net Aragón - Creando una red libre en aragón
- ViernesAbiertos - Eventos de hardware y software libre los viernes
- [plus.google.com/communities/103281359456269063508 Python User Group zaragoza] - Grupo de python zaragoza
- Drink&Draw Zaragoza - Pintura y alcohol todo en uno