CDL - Computer Deconstruction Lab
From HackerspaceWiki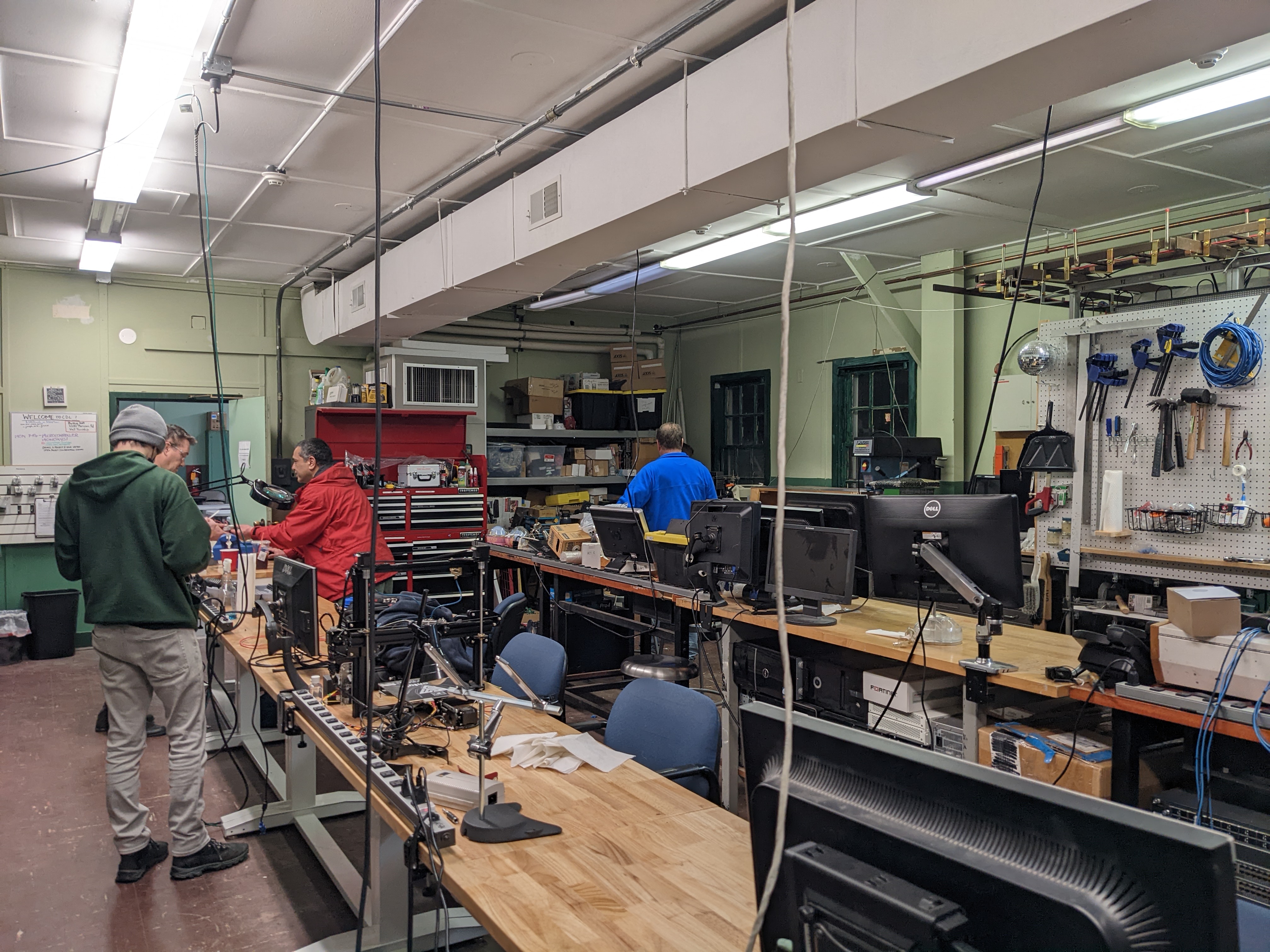 IXR (Institute for eXploratory Research) has changed it's name to CDL (Computer Deconstruction Lab) and now has a podcasting space. CDL is a 501.3c non-profit. CDL is the makerspace and podcast studio for the Jersey Shore, located at the InfoAge Science and History Learning Center. We are an open collective of geeks, artists, and techie-creative-types who come together to share tools, resources, knowledge, and ideas.
We are not an incubator.
CDL's mission is to help lower the barriers to invention, creativity, and innovation - by providing access to resources, equipment, and community - that an individual maker may not have otherwise.
We embrace the sharing of ideas and innovation, and that includes open source hardware and software. We also plan to host workshops, open to the public, on a myriad of topics - from basic electronics, to artisan soap making.
Our relationship with InfoAge allows us to have a space at very little cost, and gives us access to use meeting rooms and halls for holding workshops or special events. In return, we have the opportunity to help InfoAge grow as a learning center and museum by contributing to it's exhibits. Another benefit to being an InfoAge member organization is the synergy we have with other organizations at InfoAge, such as VCF (https://vcfed.org/), The Ocean-Monmouth Amateur Radio Club[1], NJ Antique Radio Club, [2]and more.
Although we are relatively new, we are already establishing a robust cache of resources. Some of the things we already have access to include:
Electronics and Computing Lab: We have a 720 sq. ft. technology lab that is furnished with workbenches, tables, stools and chairs. There a 2 fully equipped soldering stations, a computer workstation, internet and Wi-Fi access, a pair of 50mHz oscilloscopes, a drill press and various power tools. We also have an expansive cache of electronic components. We plan to add a circuit board etching station, surface mount station, and additional computers and test equipment.
Woodworking/Metalworking/Machine Shop:We have shared access to InfoAge's 1500 sq. ft. machine shop. Along with various power tools, we also have a MIG Welder, metal lathe, and Bridgeport numerically controlled milling machine.
Some of the other things we have planned include:
Fabrication Lab: Area with a 3D-Printer (we have 6 3D Printers), we have a CNC machining tools, laser cutter, mold-casting.
Physical Security Lab: For those interested in locksmithing, this will be a section with the tools to learn about that.
Craft Shop: Industrial sewing machines, silk-screening, and other things artsy.
And we will also have special interest subgroups, for example:
Arduino and Microcontrollers Group: For developing systems on Arduino/AVR and other popular microcontrollers.
Android Group: Those interested in developing applications and accessories for Android-powered devices.
Programming: Exploring specific topics in developing software and code.
We're open to more ...
If you live in central NJ and think you would like to be a part of this exciting, new movement, visit our website at:
and sign up to our mailing list group at
| | |
| --- | --- |
| This Hackerspace has a | 3D Printers (x6)"3D Printers (x6)" is not in the list (3D Printer, 3D Scanner, Arcade, Brewery, CNC, Kitchen, Lasercutter, Shower, Slush Machine, RIPE Atlas, ...) of allowed values for the "Equipment" property. |
| | |
| --- | --- |
| This Hackerspace has a | 3D CNC (x1)"3D CNC (x1)" is not in the list (3D Printer, 3D Scanner, Arcade, Brewery, CNC, Kitchen, Lasercutter, Shower, Slush Machine, RIPE Atlas, ...) of allowed values for the "Equipment" property. |
| | |
| --- | --- |
| This Hackerspace has a | Meade LX200GPS 12" Telescope"Meade LX200GPS 12" Telescope" is not in the list (3D Printer, 3D Scanner, Arcade, Brewery, CNC, Kitchen, Lasercutter, Shower, Slush Machine, RIPE Atlas, ...) of allowed values for the "Equipment" property. |
| | |
| --- | --- |
| This Hackerspace has a | Podcast Studio"Podcast Studio" is not in the list (3D Printer, 3D Scanner, Arcade, Brewery, CNC, Kitchen, Lasercutter, Shower, Slush Machine, RIPE Atlas, ...) of allowed values for the "Equipment" property. |