Area31
From HackerspaceWiki
Area31
Status
active
Country
Brazil

State or District

City
Belo Horizonte

Date of founding

2013/04/29

Last Updated
2015-10-19
Website
http://www.area31.net.br

Wiki

IRC

Jabber

EventBrite

Facebook

Twitter

E-mail

Snail mail


 Belo Horizonte
Brazil

Number of members

160

Membership fee

Free :D

Size of rooms

50 m²

Members

Open to Exchanges?

maybe

Open to Residencies?

maybe

Location
-19° 56' 36", -43° 55' 29"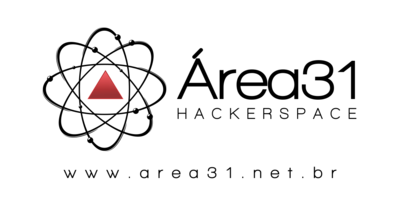 O Área 31 é um hackerspace localizado na cidade de Belo Horizonte-MG.
Um hackerspace é um laboratório comunitário, aberto e colaborativo que propicia a troca de conhecimento através de uma infraestrutura para que entusiastas de tecnologia realizem projetos em diversas áreas, como eletrônica, software, robótica, segurança, espaçomodelismo, biologia, culinária, audiovisual e artes - ou o que mais a criatividade permitir. Também pode ser visto como uma oficina comunitária e um clube social. É um espaço criado e mantido pelos seus membros, através do pagamento de mensalidades e doações.
Sabemos que a palavra hacker tem uma conotação negativa hoje em dia, muito disso por causa de uma imprensa despreparada ou preguiçosa. Os membros do Área 31 Hackerspace não aceitam essa conotação negativa e têm, entre seus objetivos, o resgate da dignidade da expressão. Um hacker é, antes de tudo, uma pessoa interessada em explorar os limites da tecnologia.
Membros fundadores
[
edit
]
Ewerson Guimarães - Crash
Gustavo Pantuza
Raphael Bastos - Coffnix
Rener Alberto - Gr1nch
Marcelo Lopes
Matheus Chaves
Rafael Tudela
Atividades
[
edit
]
Oficinas de raspberry pi e cubieboard, impressoras 3D, Scanners 3D, modelagem 3D, sistemas operacionais Unix e familiares.
Hacks, ajustes, reparos e demais desenvolvimentos de projetos de tecnologia, cultura e educação digital.
Biohacking usando biochips NFC e RFID
Em breve novas atividades...