757 Labs
From HackerspaceWiki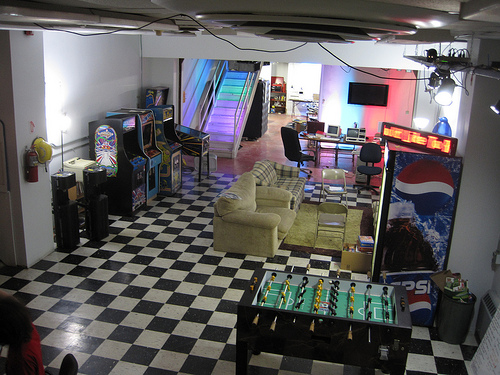 757 Labs was a 3800 square foot hackerspace located in Norfolk, Virginia. It was only a few miles away by car from Hampton, Virginia Beach, Portsmouth and Chesapeake. It was a block away from Granby street, with a number of bars and eateries accessible by foot. The front faces the new light rail tracks, with stations being built a few blocks away.
Please visit our website, and jump on the mailing list (you have to subscribe to post to it) if you are interested in coming to visit. An alternative is irc (irc.757.org/#proto or #hackerspace.) The space is located on the ground floor of the 9 story office building, and has direct outside access. Parking is restricted during business hours but evenings and weekends bring 100+ parking spaces.
Our online calendar tracks public events.
Resources at the lab include:
Main meeting area complete w/ A/V resources (projection screen, audio, etc)

Multiple pan/tilt/zoom cameras, mics, video feed from projector for recording

A chillout space featuring couches and arcade machines
2nd conference table with more audio/video resources
Electronics work area with tables, tools

Test equipment, Embedded boards galore, parts

Heavier equipment work area and storage
Cube farm for ... (purpose unknown)
Server racks for test lab and internal A/V

Sun, SGI, Alpha, PC, RS/6000, Cray, NetApp, Cisco, more

CNC router, Laser Engraver, RepRap being built at the moment
I think we're off to a great start, but we always need like minded individuals for projects!
If you are local, please don't hesitate to reach out to us today. We need involvement to keep things going.