/dev/tal
From HackerspaceWiki
/dev/tal
Status
active
Country
Germany

State or District

City
Wuppertal

Date of founding

2011/07/13

Last Updated
2016-12-23
Website
http://devtal.de

Wiki

IRC

Phone

+4920269758595

Facebook

Twitter

Diaspora*

devtal@tippentappen.de

E-mail

Mailinglist

Snail mail

Mirker Straße 48
Land of Berg-42105 Wuppertal
Germany

Number of members

64

Membership fee

5 / 20 / 50 EUR

Size of rooms

25 m²

Members
Ex, Nilsarne, Phip
Location
51° 16' 0", 7° 8' 41"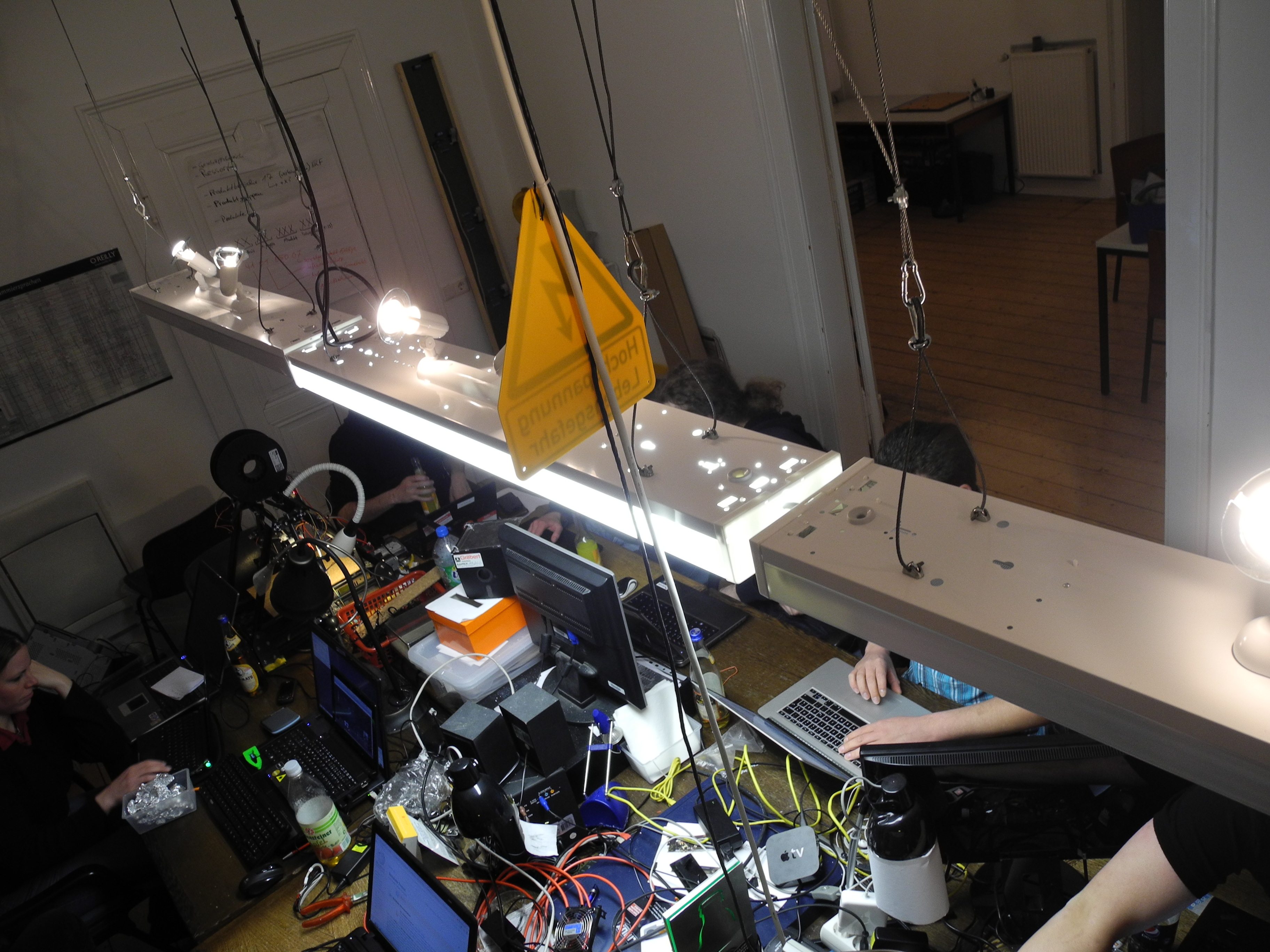 The hackerspace /dev/tal is located in Wuppertal's "Nordstadt" (North town), about 2 km away from the central station in the historical "Bahnhof Mirke" (Mirke train station). In the same building there are also a fablab, a coworking space and also a huge creativity cluster with events, art exhibitions and quarter development. Outside there are an urban gardening project, a huge area for open air events and Wuppertal's famous cycle path, the 20 km long "Nordbahntrasse".
Our space isn't open 24/7. The main meeting is on Fridays, usually from 18:00 (6pm) with open end. Some of us are in the space during the week, but very irregular and on short notice. You don't need to announce your visit, though it doesn't hurt to check on IRC first.
We may have regular talks or workshops, which are announced on our website. (For example our RepairCafe which is on every first Sunday of the month).
This Hackerspace has a
Projector

"Projector" is not in the list of possible values (3D Printer, 3D Scanner, Arcade, Brewery, CNC, Kitchen, Lasercutter, Shower, Slush Machine, RIPE Atlas, Lathe, Drill Press, Welder, Air Compressor, Portable Bandsaw, Soldering Iron, Hot Air Rework Station, Sewing Machine, Serger, Oscilloscope, Logic Analyzer, Tablesaw, Handheld Router, Router Table, Belt Sander, Orbital Sander, Reflow Oven, CNC Mill, CNC Router, CNC Lathe, Wood Lathe, Spectrum Analyzer, Bandsaw, Amateur Radio Station, CNC Plasma Cutter, Embroidery Machine, Kiln, Injection Molder, Vacuum Former, Panel Saw, Surface Grinder, Manual Mill, Vector Network Analyzer, Antenna Analyzer, Leathercraft Tools, Blitzortung Receiver, Weather Station, Metal Lathe, Wire EDM, Sinker EDM, Manual Plasma Cutter, Electron Microscope, Virtual Reality Station) for this property.
| | |
| --- | --- |
| This Hackerspace has a | Lathe |