Ghoomakad
From HackerspaceWiki
Ghoomakad (meaning eternal voyager in Hindi) is a sustainability and open knowledge initiative at Dharamshala, India. Located in an agricultural hamlet and close to the center of the Tibetan community in exile at McLeodGanj, the hackerspace presents a unique opportunity to experiment with technology, nature and society to work towards a self sustainable way of life.
Location and Background
[
edit
]
Set amid the backdrop of the snow capped Dhauladhar range of the Himalayas, the hackerspace is located amidst natural surroundings of fresh river streams, thick woods and lush terrace fields at Rakkar, Sidhbari, 8kms from the town of Dharamshala in the North Indian state of Himachal Pradesh. The hackerspace has been setup a not-for-profit collective by the same name - Ghoomakad, which is made of nerds and artists from across the world and the locals from the village, alike.
Rakkar is an agricultural hamlet inhabited by the indigenous shepherd community called the Gaddi and has a population of around 1500 people. The hamlet is still largely untouched by the invasion of modern life and is relatively self sustainable in terms of the local economy, also because many people grow their own food and have own land. However, dropping farm yields, limited sources of income and rising living costs are forcing the locals to abandon their traditional way of living and embracing the world of real estate, consumerism and concrete.
The Space
[
edit
]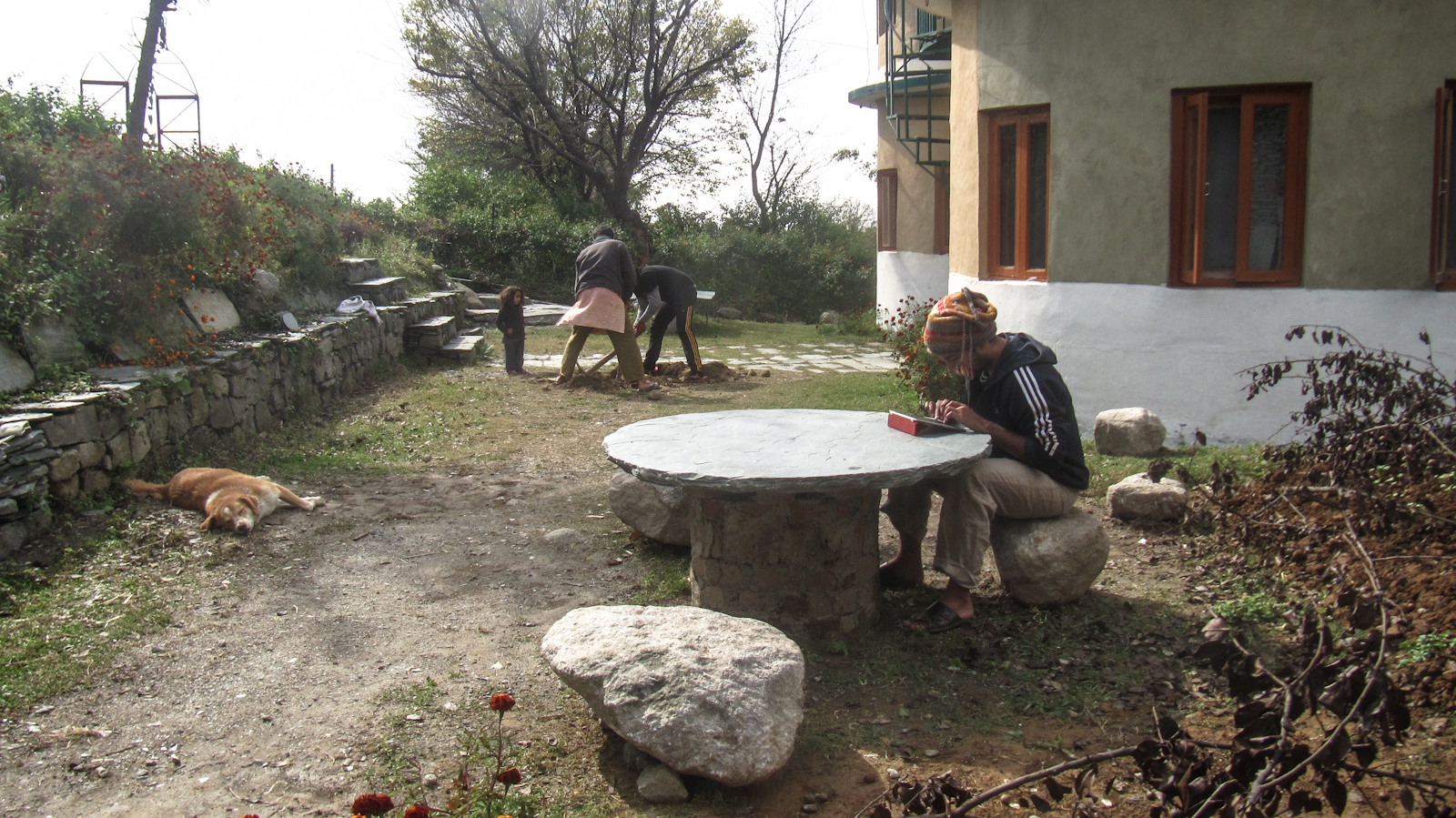 The hackerspace is located in a compound of eco friendly cottages built using local architecture knowledge and natural raw materials like wood, stone, mud and slate. The living cottage consists of 8 rooms with living facilities and a community kitchen, and is occupied by the full time residents. The working space is in a separate cottage with a large hall that can accommodate 10-15 people. There is also plenty of outdoor space with tables to work on and a small irrigation channel to dip your feet in.
Accomodation
[
edit
]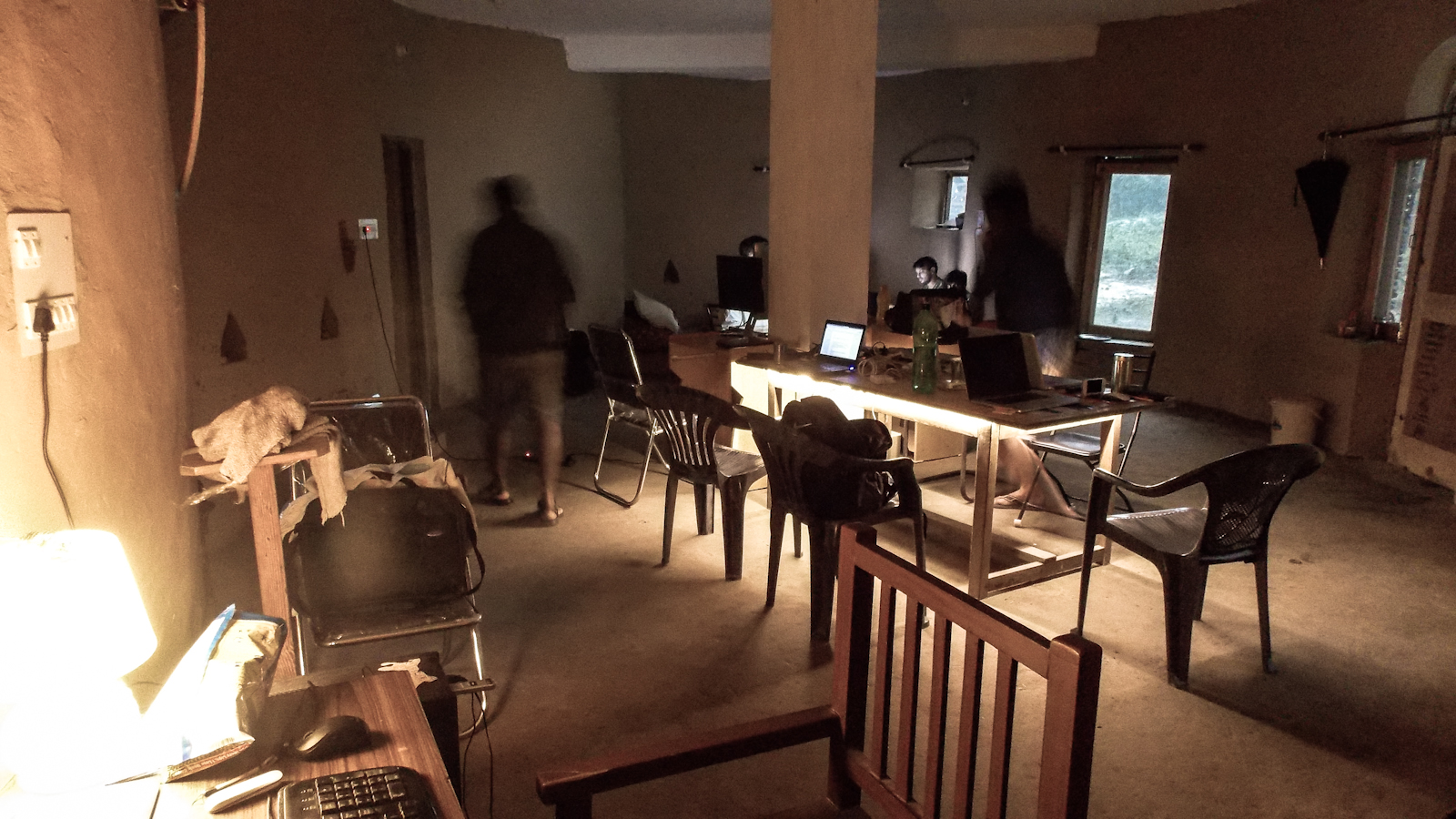 Sleeping bags can can be provided to volunteers at the hackerspace itself based on availability. Private rooms with food can also be arranged at home stays in the village within walking distance and at reasonable rates. Volunteers are invited to help in the following domains:
Waste management and village cleanup
Imparting technical skills to schoolchildren
Organic farming
Any valuable contribution to build the hackerspace
Food and transport
[
edit
]
Fresh home cooked meals are prepared at the space for a reasonable price (Rs50/meal). Kitchen facilities are also available to prepare food yourself. The village has basic convenience stores that can be used for most supplies. A well stocked supermarket and cafe is reachable within a 20 minute walk to the main Bazaar.
Regular buses to Dharamshala (9km) are available from Sidhbari bazaar (15min walk).
Local resources
[
edit
]
There is a myriad of locally available resources and skillsets that can be utilized in and around the hackerspace. Rakkar is also home to 3 organizations:
Mindgrep Technologies, a small scale web technology company
Jagori Grameen, an NGO which focuses on gender issues
Nishta, an NGO which focuses or rural development and healthcare
Skills, Activities and Interests
[
edit
]
Open source technologies
Web and mobile application development
Digital cartography and GIS
UX Design
Theatre and film making
Music
Eco tourism and sustainable development
Mud housing and ecological architecture
Recycling and waste management
Carpentry
Organic farming
Women and child healthcare
Rural education and literacy
Facilities and Tools
[
edit
]
Broadband WiFI
Near 24 hour electricity supply
Home cooked meals
Unlimited drinking water
Pets: 5 inch spiders, praying mantis, glow worms (seasonal), mountain dogs
Precision screwdrivers, multi-meter and soldering iron
Acoustic guitars
Village resources
[
edit
]
Primary school
Nishtha's hospital
Slate mines
Carpentry workshop
Local farm produce
Mineral water spring
Wishlist
[
edit
]
Laser cutter
Books
3D printer
Arduino boards
Places nearby
[
edit
]
Norbulignka Institute for Tibetan arts and culture[1], Fatehpur (1km)
Gyuto Karmapa Monastery[2], Sidhbari (1km)
Chinmaya Organization for Rural Development (CORD) [3], Tapovan (3km)
McLeod Ganj, Bhagsu and Dharamkot[4] (12km)
Sambhaavnaa Institute of Public Policy & Politics and children's learning center [5], Palampur (35km)
Andretta Pottery and Crafts Society[6], Palampur (45km)
Billing paragliding area, Bir (55km)